2018 MONUMENT TO FREEDOM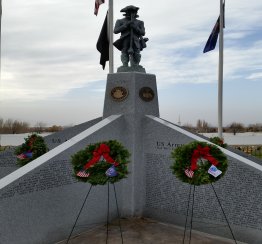 All are invited to attend as the community of Lindon will hold our annual Memorial Day Ceremony honoring all Lindon veterans for their military service. Each year, the Lindon City Police Department, with the full support of the Mayor and City Council, spearheads the effort to collect and authenticate the names of those who have done so much to preserve our freedoms. This effort culminates each Memorial Day as a spectacular, one hour program that is held including a special message from an honored veteran, patriotic music by a Lindon Youth Choir, the reading of the role of honor, a 21-gun salute followed by the playing of Taps and the solemn placing of a traditional wreath upon the monument by an honored guest.

MAY 28, 2018, 9:00 A.M.
LINDON CITY CEMETERY
550 NORTH 200 EAST
The Lindon Police Department is also requesting names to be submitted for the Memorial Day Presentation at the Lindon City Cemetery on May 28th. The criteria is that each person served in any branch of the military, may be living or deceased, and is or was a resident of Lindon. Please contact Chief Adams with any names. 801-769-8600 ext 303. or by email to jadams@lindoncity.org.