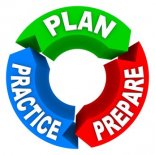 For over 10 years, Lindon has practiced to be as resilient as possible in a large-scale emergency through an annual communications drill that involves every Lindon City resident. The city practices this drill every September. It is unique within the entire U.S. and will help us to more quickly assess and respond to a major disaster event, should one occur. We appreciate how willing our community is to work together to be well-prepared. By practicing this drill, we are learning how to account for all Lindon City residents and assess their safety and needs within 2 hours. This is a HUGE feat. By comparison, in most disaster situations, many hours are spent bringing in personnel to begin an assessment. In this time, we are finished with our initial assessment and have begun the response process. Your cooperation and participation are critical to this success, and we thank you for drilling with us annually. You can find more information at the Lindon City Drill webpage by clicking on this link www.LindonCityDrill.com
The 2019 LINDON CITY DRILL




Monday, September 16, 2019




6:00PM to 8:00PM

The Drill Down for Safety is held each year at 6:00pm on the Monday evening following 9/11. At that time we ask for everyone in the City to respond to their Block Captains to be identified as 'safe'. The information is forwarded to neighborhood captains, then area captains, then to the City. This chain of information on specific individuals enables the City to perform a count of residents and business employees during large scale emergencies. Along with the accounting of individuals, information regarding hazards or needed help is also obtained and forwarded to the City.

If you will be out of town or cannot attend that evening, please let a trusted neighbor know in advance so they can report that your family is away but accounted for. In an actual event, that little notification may save hours of unnecessary resources searching to determine your condition. Please use the opportunity to connect with your friends and neighbors and make it a fun evening!

Our goal is to work through problems and make our mistakes as we practice drill and not in the middle of an actual emergency. Lindon City will continue to lead in the effort of personal preparedness and as a city is dedicated to promoting safety and emergency preparedness efforts among its residents. Our efforts as a community are getting attention as each year more cities come to observe us to help develop their programs. Please participate in the drill and make this a fun event with neighbors as you practice together for that day which we all hope never comes!
FOR Sunday, August 18, 2019
-All block captains and emergency specialists should attend a training meeting at 11AM on Saturday, August 24, at the Lindon Community Center (25 N. Main St.) to review the Lindon City Drill. We have new city goals, a new form, and plenty of new people in Lindon who need your enthusiasm to help this drill succeed. Thank you for all that you do!
-The entire community is invited to the Lindon City Preparedness Fair on Saturday, August 24, 12-6PM. In addition to supplies and info, this year we will have fantastic hands-on classes throughout the day: self-defense, wild edibles, legal documents, family emergency plans, gluten-free food storage, water purification/storage, and DIY freeze-dried meals in a jar. There will also be emergency response vehicles to explore and a kids' area. Lindon Community Center (25 N. Main St.) For a complete list of classes and vendors, check www.LindonCityDrill.com.
FOR Sunday, August 25, 2019
-The Lindon City Drill is Monday, September 16, 6PM. Every household should have a block captain. If you don't know who yours is, try to find out prior to September 16. Block captains should make every effort to meet ALL members of their block in advance. This year we aim to raise our citywide participation to 90% of all residents, so please check-in! Training materials, forms, fliers, and information can be found at www.LindonCityDrill.com.
FOR Sunday, September 1, 2019
-The Lindon City Drill is Monday, September 16, 6PM. This is a city sponsored drill in cooperation with local businesses, schools, and churches. We practice neighbor-to-neighbor communication to prepare for a situation where normal communication channels have broken down. Our city drill is unique in all the U.S. and helps us to help each other as a community. www.LindonCityDrill.com
FOR Sunday, September 8, 2019
-The Lindon City Drill is Monday, September 16, 6PM. Before or after checking-in with your block captain on Sept 16, we encourage all families to discuss family emergency plans and update 72-hour go-kits. www.LindonCityDrill.com
FOR Sunday, September 15, 2019
-The Lindon City Drill is THIS Monday, September 16, 6PM. For 10 years, Lindon has consistently had citywide participation rates between 86-89% — what an amazing community! This year we raise our aim to at least 90% participation. We need every resident of Lindon to check-in tomorrow evening at 6PM to reach our participation goal in 2019!!! www.LindonCityDrill.com
REPORTING FORMS
DOWNLOAD & PRINT FOR REAL EMERGENCIES
IN A REAL EMERGENCY
Report ASAP to your Block Captain with a count & status of those in your household. Block Captains fill out & return these forms to your pre-designated Neighborhood (ward) Emergency Operations Center (EOC). Neighborhood EOC information is sent to Area Command (stake). Area Command forwards info to the City EOC. All information should be sent by 2 runners (assigned in pairs) & may also be transmitted by radio if you have pre-arranged radio transmission with your Neighborhood & Area EOC.

Specific names of families & individuals should go to the neighborhood Emergency Operations Center (EOC) level only. Specific names of families & individuals should NOT go to Area Command or to the city level, unless the neighborhood EOC requests city resources for special needs such as fire, police, rescue, or ambulance. In a real emergency, volunteer resources information (skills & equipment) will be collected by neighborhood EOCs, but again, the information will NOT be relayed to Area Command, unless Area Command or City Officials request it. This is in an effort to keep communication streamlined and keep excess chatter off the radio.

VOLUNTEER HOURS TRACKING FORM
In a Declared State of Disaster FEMA requires that the community meet one-quarter of reimbursement requests. Volunteer hours are counted toward this reimbursement effort. Please practice completing and submitting this form during the drill to get us in the habit of tracking these critical volunteer hours.

Block Captain Forms for Emergencies

Neighborhood (Ward) Forms for Emergencies

Area (Stake) Forms for Emergencies