INSPIRE 5K FUN RUN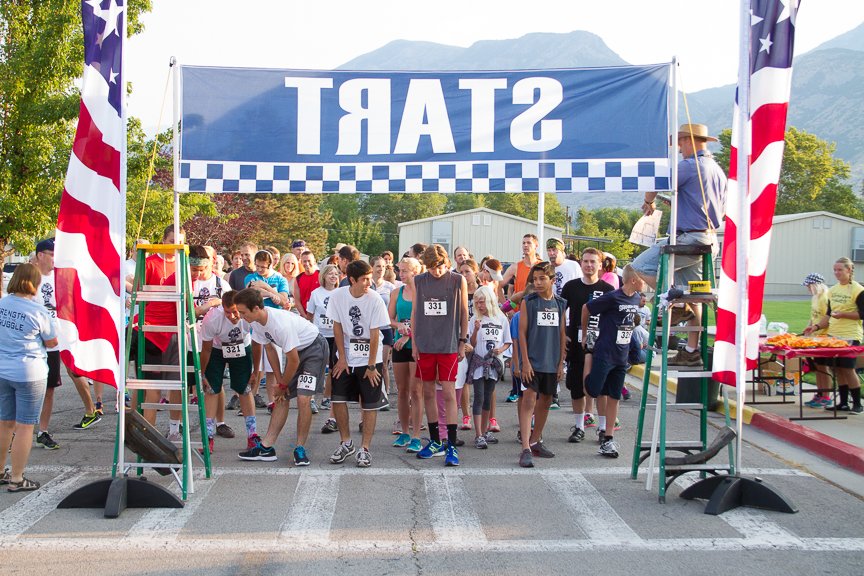 Date: August, 11 2018
Check in: 6:15 AM Race Time: 7:00 AM
Fee: $10 per runner- Kids 8 & under run free
Location: Lindon Community Center ( 25 N Main Street, Lindon)
Online Registration Deadline: August 10th
Packet Pick Up: August 10 @ Lindon Horse Arena, 6:00-8:00PM
Late Registration Day of Race: 6:00 AM (Fee: $20, shirt not guaranteed)

Be the Inspiration: Come celebrate Lindon Day's by running the 5K timed race this August! This race is great for all abilities and ages. This is a great race for new runners or people who are interested in beating their personal record. Grab a friend and head over to the run! Fun Prizes!! After the race come join the mayors breakfast at the Community Center and the Lindon City parade!

Questions? Contact Cyndi Hall chall@lindoncity.org, 801-769-8627

---
MAYOR'S BREAKFAST
Date: August, 11 2018
Time: 7:30-9:30 AM
Location: Lindon Community Center (25 N Main Street, Lindon)
Fee: $5 Adults, $2 Kids, or $15 for family of 5

Join Mayor Acerson and the Lindon City Council while they cook their traditional breakfast for the community. Come fill your plate with pancakes, eggs and all the fixin's. Meal tickets can be pre-purchased online by clicking here. Just bring your receipt and you'll be squared away. Tickets can also be purchased at the door with cash/check/card.
---
GRAND PARADE
Date: August, 11 2018
Time: 10:00 AM
Location: Center Street (900 E to Main Street, Lindon)
Inspire is the theme for the 2018Lindon Days Grand Parade. Snag a spot on the sidewalk or road to cheer on bands, floats, animals, performing groups and local businesses as they parade down Lindon's Center Street. You might even be lucky and snag some candy or an otter pop!


---
FAMILY FAIR & FOOD TRUCKS & VENDORS


Date: August, 11 2018
Time: 3:00-7:00 PM
Location: Pheasant Brook Park (400 N 800 W, Lindon)
This event cannot be missed! Bring the whole family! All games, crafts and activities are FREE! That's right, FREE! Bring a white shirt to tie-dye or purchase one at our Tie-Dye booth. We'll have bounce house, Foam Sword Battles, FREE cotton candy between 4-6PM, Sports games, DIY project with Home Depot, Swing by the Mad Science booth and make slime! There is so much fun to be had!
Swing by our vendor booths to check out the latest and greatest items for sale. Hungry? Grab a bite to eat from the food trucks! This is an evening catered to all ages. Come have fun closing out Lindon Days with us!
---
CONCERT AND FIREWORKS

Date: August, 11 2018
Pre-Show:
Concert Time: 8:30 PM
Fireworks Directly after the Concert


Start with two superstar caliber vocalists with true genre-jumping ability. This married couple wastes no time on watered down, "that will do", cover version vocals. They bring an authentically charged, intensely energetic performance with the rare and unique vocal ability to smoothly transition from one song and style to the next, making each one hit harder than the last. A natural feel and engaging stage presence, nothing is forced. They are highly talented team that will settle for nothing less than perfection, and that have an obvious natural chemistry on stage, not to mention the added benefit of being very easy on the eyes. They are unique and without competition or duplication. They are the industry's hottest couple.
Now add a rhythm section made up of world class studio musicians, boasting resumes that would rival any party band on the planet. They have worked with major music labels, motion picture companies, television studios, and have toured with household names. They have played all over the nation for some of the worlds largest corporations, and have backed artists the likes of Collin Raye and Kenny Loggins. As the most talented and decorated group of guys the industry has to offer, they are literally second to none.
Together THE SALAMANDERS make up a dream team of sorts. Unique talent, musicianship, professionalism, and class have quickly make them on of the nations most sought-after acts. They have the ability to boldly rock any genre with an in your face intensity and energy that will not stop. They provide an experience both captivating and extraordinary. With the unmatched combined look, sound, and energy of the front line, and the truly exceptional quality of the music offered by the rhythm section, there is none other that compares. They are the standard for excellence in the event band industry.